<!IMG SRC="pixel.gif" HEIGHT=1 WIDTH=180>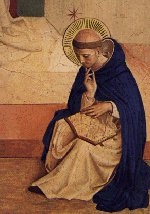 Saint Dominic
contemplating the Scriptures
<! -------------------------End H:\Comments\BoilerPlate\intros2.shtml >

1 Samuel 2:18-20,26

After many years of barrenness, Hannah has been given a son by God. She has vowed that she will dedicate him to the service of the Lord, and accordingly has placed him under the tutelage of Eli, the priest of the temple at Shiloh.
---
Colossians 3:12-17
The author continues to describe the lifestyle which is expected of Christians. His readers, perhaps newly baptised, have "stripped off the old self and its practices" and "have clothed ... [themselves] with the new self, which is being renewed in knowledge according to the image of its creator".
---
Luke 2:41-52
This is the only passage in the Bible that tells of Jesus' boyhood. Jewish men (and perhaps women and children) were expected to make a pilgrimage to Jerusalem for the Passover. Jesus continues to grow in many ways: he not only listens to experts in Jewish law, but even asks them questions.
© 1996-2016 Chris Haslam