<!IMG SRC="pixel.gif" HEIGHT=1 WIDTH=180>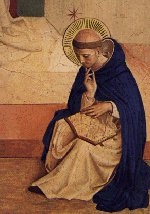 Saint Dominic
contemplating the Scriptures
<! -------------------------End H:\Comments\BoilerPlate\intros2.shtml >

Joel 2:1-2,12-17

Joel has told of terrible times to come, when the land will be devastated by an army of locusts commanded by God. Crops will be devastated. Fruit trees will wither away. Fire will devour pastures. Wild animals will cry for lack of food and water. It will be a time for mourning.
---
Isaiah 58:1-12
After return from the Exile, the people of Judah were discouraged. Life was hard, and it seemed that God was not listening to them. This passage speaks of fasting, but its implications are wider. It chastises the people, but there is hope.
---
2 Corinthians 5:20b-6:10
Paul has written of a "new creation", probably meaning a new standard of evaluation set by Christ. He and his coworkers, Timothy and Apollos, "ambassadors for Christ" have been reconciled to God through Christ. They are now entrusted with bringing people to oneness with God, in Christ's name.
---
Matthew 6:1-6,16-21
Matthew tells us some of Jesus' teachings that raised the ire of the Jewish religious authorities. Jesus presents his view of three major features of Jewish "piety" or righteousness – ways of seeking favour with God.
© 1996-2016 Chris Haslam