<!IMG SRC="pixel.gif" HEIGHT=1 WIDTH=180>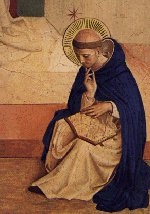 Saint Dominic
contemplating the Scriptures
<! -------------------------End H:\Comments\BoilerPlate\intros2.shtml >

Isaiah 60:1-6

Darius, King of Persia, has permitted the people of Israel to return to Jerusalem. The prophet tells the people to arise, for joy, prosperity and salvation are now in the city; God is with them; they will reflect the presence and power of God.
---
Ephesians 3:1-12
It is part of God's plan that both Jews and Gentiles are called to share in Christ's saving activity. This is the "mystery of Christ". Paul's insistence on Gentiles being full and equal members of the church has led to his imprisonment.
---
Matthew 2:1-12
"Wise men" (in Latin: magi) were members of a Persian caste of astrologers and interpreters of dreams. Astrology was widely accepted then. A star was associated with each person; the way the star rose told the wise men that a king had been born. A later church tradition called the wise men kings.
© 1996-2016 Chris Haslam