<!IMG SRC="pixel.gif" HEIGHT=1 WIDTH=180>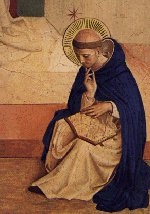 Saint Dominic
contemplating the Scriptures
<! -------------------------End H:\Comments\BoilerPlate\intros2.shtml >

Exodus 12:1-4,(5-10),11-14

Trying to convince the Pharaoh to let the Israelites leave Egypt and slavery behind, God has assailed the Egyptians with nine plagues, but so far the Egyptian ruler has refused to let them depart, and to acknowledge the supremacy of Israel's God.
---
1 Corinthians 11:23-26
In instructing the Christians at Corinth on proper behaviour at the Lord's supper, Paul tells us the earliest words we have for consecrating the bread and the wine.
---
John 13:1-17,31b-35
As the time when Jesus will end his earthly life approaches, he and his disciples share a meal together. He demonstrates the importance of servanthood in the Christian way of life.
© 1996-2016 Chris Haslam