<!IMG SRC="pixel.gif" HEIGHT=1 WIDTH=180>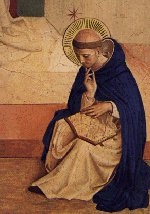 Saint Dominic
contemplating the Scriptures
<! -------------------------End H:\Comments\BoilerPlate\intros2.shtml >

Numbers 6:22-27

Numbers interrupts the story of preparing to leave Sinai with several case laws regarding the maintenance of purity in the community. Our reading is a blessing to be given to the Israelites.
---
Galatians 4:4-7
Paul has told us that, before Christ came, we were like an heir under guardianship, unable to speak or to act on our own behalf. But now we are heirs in God's family, under grace. We are no longer subject to the guardianship of the Law.
---
Philippians 2:5-13
Paul has just urged the Christians at Philippi, through "encouragement in Christ", and moved by God's love for them, to "be of the same mind[set], having the same love, being in full accord ..." They are to "regard others as better than ... [themselves]", freely adopting a lowly, unassertive stance before others, replacing self-interest with concern for others.
---
Luke 2:15-21
After Mary has given birth to Jesus, angels have appeared to shepherds living with their flocks. They have told the great good news of Jesus' birth and have told the shepherds where to find him.
© 1996-2016 Chris Haslam