<!IMG SRC="pixel.gif" HEIGHT=1 WIDTH=180>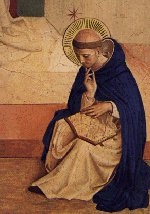 Saint Dominic
contemplating the Scriptures
<! -------------------------End H:\Comments\BoilerPlate\intros2.shtml >

Ecclesiastes 3:1-13

The author has written that he has found success in commercial affairs gave him no lasting satisfaction, despite being achieved with great effort, and offering much pleasure. He has also tried living in a patient, restrained, ethical way, but it was no more satisfying, because whether one lives that way – or doesn't – one's fate is the same.
---
Revelation 21:1-6a
The book of Revelation is "the revelation of Jesus Christ" made through John. It is prophecy which reveals secrets of heaven and earth. John has seen the destruction of the old city and of the old heaven and earth. Now he sees the new creation, of divine origin and free of evil forces – for ultimately God's love will prevail.
---
Matthew 25:31-46
Jesus has just told three parables about the kingdom of heaven, the last one emphasizing the importance of faith in attaining entry to this blessed state. Now he speaks of the conduct expected of faithful people.
© 1996-2016 Chris Haslam