<!IMG SRC="pixel.gif" HEIGHT=1 WIDTH=180>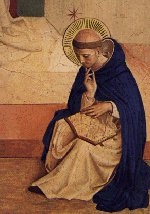 Saint Dominic
contemplating the Scriptures
<! -------------------------End H:\Comments\BoilerPlate\intros2.shtml >

Isaiah 7:10-15

The kings of Syria and Israel are bent on conquering Jerusalem and installing a puppet king on Judah's throne – one not descended from David. Speaking through Isaiah, God has told Ahaz, King of Judah, to trust in God rather than in human counsel. If Ahaz stands firm in faith, the conquest will fail.
---
Galatians 4:4-7
Paul has written that, before Christ came, we were like an orphaned heir to an estate of minor age, unable to speak or to act on our own behalf.
---
Luke 1:46-55
Mary is visiting Elizabeth and Zechariah. God's messenger, Gabriel, has told her that she will bear Jesus, "Son of God", successor to David, and founder of an eternal kingdom. With God, "nothing will be impossible". Mary now thanks God
---
Luke 2:1-7
The prophet Micah prophesied that from Bethlehem would "come forth" for God "one who is to rule Israel", either descended from David or from God. He will be like a shepherd, feeding his flock with God's help and in his majesty. He will protect the people and bring them peace.
© 1996-2016 Chris Haslam