<!IMG SRC="pixel.gif" HEIGHT=1 WIDTH=180>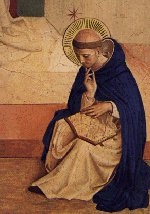 Saint Dominic
contemplating the Scriptures
<! -------------------------End H:\Comments\BoilerPlate\intros2.shtml >

Ezekiel 34:11-16

The failure of Israel's kings – called shepherds here – to provide for the needs of the people has led to their present plight and dispersion. Some of her people have settled in foreign lands; others are in exile. Those who remain behind are no better off.
---
2 Timothy 4:1-8
Writing in Paul's name, the author urges his readers to preach the Gospel without regard for their own suffering.
---
John 21:15-19
Our reading is from the epilogue, the chapter after the first conclusion of the gospel. After his resurrection, Jesus appears to six disciples near the Sea of Galilee. After fishing all night and catching nothing, Jesus shows them where to fish. Then he invites them to share breakfast on the shore.
© 1996-2016 Chris Haslam