<!IMG SRC="pixel.gif" HEIGHT=1 WIDTH=180>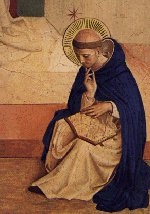 Saint Dominic
contemplating the Scriptures
<! -------------------------End H:\Comments\BoilerPlate\intros2.shtml >

Isaiah 49:1-7

Our reading is the second of the Servant Songs. The servant calls upon Israelites scattered around the Mediterranean. He is an effective instrument in speaking God's word. He speaks on behalf of the faithful of Israel, who will bring knowledge of God to all peoples.
---
1 Corinthians 1:18-31
Paul has decried the divisions in the church at Corinth. Now he differentiates those for whom Christ's death, resurrection and return to the Father are highly significant and those who fail to understand Christ's sacrifice for us.
---
John 12:20-36
The festival of Passover, an occasion when both Jews and others who hold God in awe, approaches – as does Jesus' death on the cross.
© 1996-2016 Chris Haslam