<!IMG SRC="pixel.gif" HEIGHT=1 WIDTH=180>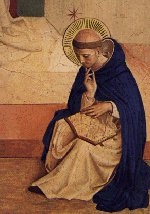 Saint Dominic
contemplating the Scriptures
<! -------------------------End H:\Comments\BoilerPlate\intros2.shtml >

Jeremiah 31:7-14

About 600 BC, Israel was subject to Assyrian rule. Jeremiah wrote this message of hope to the people. It is a message of homecoming: the people who have been dispersed will be gathered together.
---
Sirach 24:1-12
The created world is God's, so faith and reason go hand-in-hand: learning about creation is learning about God, and reasoning is done in the context of God. In the last centuries before Christ, people understood that acquisition of knowledge about God and his creation leads to wisdom. Here Wisdom, the spirit of God, is personified as Lady Wisdom.
---
Ephesians 1:3-14
Our reading immediately follows the opening greeting of the letter. Paul thanks God for the blessings Christians has received, blessings that are unseen and eternal. God has intended that Christ's followers be so blessed since before time began.
---
John 1:1-18
John wrote his account of the gospel so that we "may come to believe that Jesus is the Messiah [the Christ], the Son of God, and that through believing we may have life in his name". John begins with a summary of the faith.
---
John 1:10-18
This reading continues the book's prologue. The Word, God, Christ, was born into this imperfect world, a world that "came into being through him". Christ is life and light.
© 1996-2016 Chris Haslam