<!IMG SRC="pixel.gif" HEIGHT=1 WIDTH=180>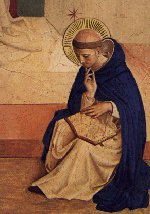 Saint Dominic
contemplating the Scriptures
Now we are Six!
The motto of the Comments ministry is Equipping the people of God to proclaim the Good News to the World. Back in late 1995, this was quite an overstatement. In the fall of 1995, Chris Haslam was wondering what he could do for the Church, as a layman, with the knowledge of theology he had gained at Concordia University. The answer came when Alan Perry, then Assistant Curate at St. James the Apostle in Montreal, took the Sunday services at Ste. Agathe (north of Montreal). Robert Overing was writing short commentaries on the Sunday Bible readings which were included in the parish bulletin. Alan suggested that Chris write something similar for St. James the Apostle. Canon Jan Dijkman, Rector of St. James, agreed. Alan undertook to review what Chris wrote. Working from reputable published commentaries, Chris decided to try putting sometimes complex theological ideas in as plain language as possible.
Comments appeared in the Sunday bulletin at St. James for some months; then Alan became Rector of St. Simeon's, Lachute, Quebec. He decided to offer Comments there, so Chris emailed them to him. Comments has been on one letter-size page from the beginning, so it fits easily in a parish bulletin. At some point, Chris decided not to throw away (on the clipping room floor) what would not fit in the single page; thus Clippings was born. It has grown to be a significant secondary reference. Then a Lutheran pastor contacted us seeking introductions which could be read before the readings.
In August 1996, Alan became interested in the technology behind web pages; thus the Comments website was born. Since then, the website has been updated weekly. It offers Comments, Clippings, and Introductions for the coming Sunday, the following Sunday, the previous Sunday, and for special feast days. By November 1996, over 100 people were visiting the site each week.
On the website, we offered to send the documents each week to those interested, in word-processor formats. A United Methodist pastor in Iowa offered to forward the documents weekly in Macintosh in word-processor formats. Then an Anglican priest in British Columbia sent Chris a copy of Study Notes, a combination of Comments and Clippings useful for Bible studies. This has become a part of the emailed offering.
Chris' knowledge of New Testament Greek is limited, so Alan has been mentor and coach in this area. Other clergy have also served in these roles, particularly Abbott Conway and Paul Jennings.
Who uses Comments? Because we welcome mail on the website, and ask subscribers to tell us about themselves and their parishes, we have some idea of the audience. About two-thirds are clergy, with the rest being lay leaders in their parishes. Clergy, lay readers and other leaders typically use Comments for preparing sermons. They also use it as an insert in the parish bulletin and for Bible studies. So Comments reaches many more people than those who visit the website. In recent months, an average of about 2000 visit per week and over 2500 in a busy week. If ten people listen to each sermon, Comments affects 15,000 to 26,000 people on a weekly basis.
By denomination, the leader is probably the United Methodist Church in the United States. (Many Episcopal churches use a somewhat different lectionary.) Since Anglicans in England and Wales began using the Revised Common Lectionary, the number of Anglican visitors has risen. We hear from people of many other churches: Roman Catholic, Baptist, Presbyterian, Disciples of Christ, Pentecostal, and so on.
For several years, a Roman Catholic layman on a remote island in the Philippines was a subscriber. To download his copy, he walked for an hour to a bus. He then took an hour's bus ride before reaching a computer. He took his copy home to share in Bible study in his village. Recently, a physician in Brattleboro, Vermont wrote to tell us that he would be sharing Comments with a fellow physician as they led an Advent Bible study. Comments has readers in Rankin Inlet (northern Canada), Australia, New Zealand, India, Japan and Latvia. It is translated into French by Michel Gagnon of our Church of the Advent. It forms a base for Bishop Sumio Takatsu's commentaries which he distributes, in Portuguese, across Brazil; they are read on-line in Portugal and the United States, and perhaps in other countries. Comments in English is used in a Christian chaplaincy at an Algerian university and by the minister responsible for US armed forces in Europe. We would now dearly love to find someone to prepare a Spanish translation.
The investment of time has been considerable: 10 to 16 hours a week for Chris during the first two 3-year cycles, and several more hours for Alan reviewing, but the returns have been substantial. Comments is a very rewarding ministry: supporting emails arrive almost every week and there are many inspiring stories; over the years only one e-mail has criticized Comments destructively. A further proof of Comments' international favour is the extent to which other respected web-sites link to it: Anglicans Online, Vanderbilt University, St Louis University , and Text This Week, are just a few. And this global ministry started right here in the Anglican Diocese of Montreal, with a visit to Ste Agathe!
Chris Haslam