St. Michael's, Bolton Glen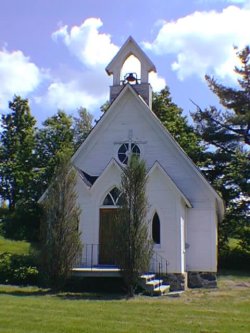 Welcome to St. Michael's, Bolton Glen
Once the weather warms up, St. Michael's opens up the doors for a monthly evening hymn sing. In this tranquil mountain setting you can sing some of your favourite hymns in the intimate atmosphere of a small country church.
For information about the dates of the services please contact the secretary at St. Paul's in Knowlton at 450-242-2885.
St. Michael's is part of the parish of St. Paul's, Knowlton.
---
Some Interesting Links
Anglicans Online
Links to Anglican sites all around the world
Anglican Diocese of Montreal
Visit our diocesan web site
Readings and Commentaries for this Week
Commentaries on the scripture readings for this Sunday
---