Holy Trinity, Iron Hill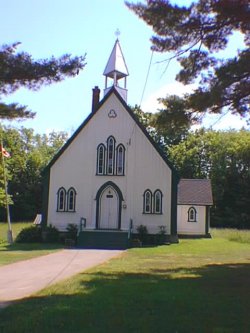 Welcome to Holy Trinity, Iron Hill
Sunday Services:
1st, 3rd, 4th Sunday of the month at 11 am.
2nd Sunday of the month at 7:30 pm.
Wardens:
Rectors Warden: Douglas Hall (450) 263-2579
Peoples Warden: Lena Roberts (450) 243-6291
Mail Address:
333 Stagecoach Road
Brome, Quebec
J0E 1K0
Phone: 450-243-6096
Parish email:
Nestled in the rolling hills of the Eastern Townships of Quebec, this charming church has continued to welcome worshippers since 1864. We invite you to join us on Sunday mornings!
Holy Trinity Church is part of the Parish of Brome.
---
Some Interesting Links
Anglicans Online
Links to Anglican sites all around the world
Anglican Diocese of Montreal
Visit our diocesan web site
Readings and Commentaries for this Week
Commentaries on the scripture readings for this Sunday
---