St. Patrick's, Bolton Centre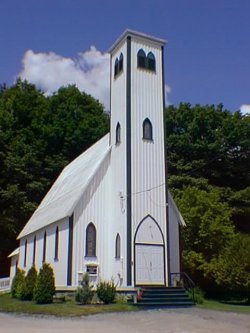 St. Patrick's in Bolton Centre was founded in 1869. A small but active congregation continues to meet for Sunday worship on the 2nd and 4th Sundays of each month
at 9:15 am. A schedule of services is posted on the front door of the church.
St. Patrick's is part of a parish unit with two other Anglican churches nearby,
Holy Trinity in South Bolton and St. Paul's in Mansonville.
Assisting clergy in the parish include the Rev. Mark Gudwin and Archdeacon Stuart Martin.
The wardens are Elsie Page (450-292-5706) and Sally Crocker scrocker@interlinx.qc.ca
The church is located on route #245 in the town of Bolton Centre, right beside the town hall. You are most welcome to join us for Sunday worship.
---
Some Interesting Links
Anglicans Online
Links to Anglican sites all around the world
Readings and Commentaries for this Week
---