Recent News
New Tool for Children's Ministry
Reflections on The 1999 June Picnic

New Clergy Representative
Saint's Alive (All Saints' Day)
St. Mary's Skip-a-thon and Soup Lunch


Bishop's Lenten Program
Operation Christmas Child
New Tool for Children's Ministry

At our September Kidstuff Meeting we decided that it would be a good idea to order a set of Beulah Land, the amazing flannel board designed by Gretchen Pritchard. If you attended the workshop led by Gretchen which took place here a few years ago, you will remember this awesome resource and what an effective tool it can be for story-telling. When the set arrives (and that won't be before January or February 2000) we will be advertising for Parishes in different regions to borrow it for a month at a time & hope to keep it in constant circulation. Watch for more info in our Winter Newsletter.

What's so special about Beulah Land Flannel-board? Beulah Land enables you to do more than tell individual Bible stories. With pieces designed to move flexibly from one narrative to another, it will open the whole world of Scriptural image and symbol to you and your children, and invite children to enter imaginatively into the Biblical narrative in the same way as the enter the many other imaginative world of childhood: by playing with the story on their own terms. When children appropriate the Scriptural world in this way, its language becomes a part of their very selves; it is theirs for life.

Sounds great, but I'm a busy teacher/parent ----. Is it easy to use? YES! Each story set will arrive in convenient kit form, with all necessary materials (pattern outlines printed directly on the fabric), and full instructions for cutting and assembly using ordinary white glue. Also provided: story scripts and suggestions for use in teaching and play, formatted for inclusion in a three ring binder . Build your Beulah Land Manual with each new set, and keep story scripts, backup paper patterns and assembly instructions , in one safe, organized location.

Anything else I should know?

Beulah Land is not just a great resource, it's a ministry! All profits benefit the Children's Mission of St. Paul and St. James, an outreach to inner-city children in New Haven, Ct. Story sets will be assembled by disadvantaged teenagers in our job-skills training program, Beulah Enterprises





top of page






ALL SAINTS' DAY



All Saints' Day was initially introduced to override the pagan festivals at this season associated with spirits and demons, and does not have its roots in an event in the Bible, it is a holy day for Christians around the world. The "Saints Alive!" Children's party held every year at St. Matthew's, Hamstead, aims to replace our secular holiday of Hallowe'en, designed to celebrate the dark side of the spirit world, with the Christian holiday of All Saints, designed to celebrate the holy men and women who serve as beacons leading to the light of God.
This is all fairly heavy stuff, but it is meant to give parents some idea of why this ministry exists. For the kids who participate in this ministry, "Saints Alive!" Is a fun party where they play games, make crafts, eat, and, in between, listen to stories about some of the great saints who are the pillars of the Church. "Saints Alive!" Is many things, but isn't an official gathering designed solely to take the fun out of October 31st in the name of religion.



Once again KIDSTUFF offered 2 programs. One was at St. Matthew's, Hampstead (for those in the City & West Island) The attendance was 30 children 20 parents. Who came from 6 churches from the City and South Shore. I heard it described as organized chaos, the kids are still talking about it.
The 2nd was a gathering of "KINGS KIDS" was hosted by St. Paul's & Trinity Church in Knowlton at St. Paul's.



top of page

"The Rev. Christopher Belle recently moved to Hudson Heights - it is quite a different location from what he has been used to. For the past five years, he has been serving the North Eastern Caribbean and Aruba (12 Caribbean Islands). He was in Antigua three years and Dominica for two years. The Rev. Chris Belle, however, was born and raised in Montreal, graduating from the Montreal Diocesan Theological College in 1994 with a Masters of Divinity. He was part of the day camp program in 1990 to 1994. He also was the MC for Crossroads Youth Services.

Energetic and enthusiastic Chris Belle is a wonderful addition to our Kidstuff team and the Diocese.


The Rev. Christopher Belle
Assistant Rector
for the Parish of Vaudreuil
top of page

The 1999 June Picnic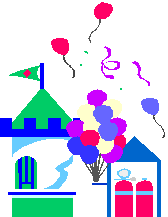 On a scorching hot Saturday last June, approx. 60 people from across the Diocese met at St. Michael & All Angels in Pierrefonds for what we hope will prove to be an Annual Event- The Diocesan Family Eucharist & Picnic.


The Rev. Paul Woerhle was our Celebrant, with music provided by the band "Seemingly Foolish." The following paragraph gives a flavour of the style of worship at our Eucharist.


"Joy is a Flag Flown High"


Joy is an experience that is often indescribable. As followers of Jesus Christ joy is to be a regular part of our lives. We are called to "make a joyful noise to the Lord", at times in spite of how we are feeling. Joy is like a flag flown high and snapping in the wind. Children model to the rest of us those unguarded expressions of joy which often break--out spontaneously. We sadly admit that many children's joy has been stolen due to tragic circumstances. Jesus told his disciples, not to "shush" the children, but to let them come to him…"And he took the children in his arms, put his hands on them and blessed them" (mark 10: 13-16). This reflects, to a large degree, what this day is about; letting the children come to Jesus, perhaps even leading the rest of us… (Isaiah 11:6) that we all might know the joy of God Almighty and Bless his Holy Name.
Kidstuff


Following the Eucharist the children enjoyed bouncing on a "Bouncy Castle". We all shared our picnics & before leaving everyone received a Popsicle & button " for the road", despite the oppressive heat we had a super time & hope to continue the tradition next year.





top of page





The KIDS at St. Mary's, Kirkland have done 2 fun things so far! They've had a

SKIP-A-THON



And a

PARISH SOUP LUNCH

They've raised close to $600 so far! We hope to hear more about their success for the next newsletter.

Have fun with this project!

top of page




B.L.P. (BISHOP'S LENTEN PROJECT 2001)

1976.13
To date this is the amount collected for the BLP 2001.
We are in the process of arranging for it to be sent to Peru where it will be used to help in the outfitting of a Family Health Clinic in a low-income area near Lima. Way to go to all those who worked hard, and creatively! Thank you all for such good work!
The Bishop's Lenten Project 2002 is planning to help in two ways following the events of September 11, 2001 disaster:
to assist an elementary school in the heart of New York City and
to give 50% of the funds to an International agency in Afganistan to help with food and medical supplies.

HOT LUNCH & SNACK PROGRAMS


Five schools across the Diocese will receive money towards their hot lunch & snack programs which are essential for children who cannot afford to bring their own to school. One school in each of 5 archdeaconries (regions) has been selected.


An information package was sent out to each parish in early February. We have heard through the grapevine of some very innovative ways to raise money for this project. Let us know what you are doing, and we'll publish your ideas for others to enjoy.

Please call Valerie (484-1414) if you would like to send in a write-up, or call Meg if you want to use email.

top of page


OPERATION CHRISTMAS CH

ILD

submitted by a member from the Parish of Arundel & Weirs


Two years ago the Sunday School prepared five or six shoe boxes of small gifts/articles to be distributed to children around the world. These boxes of simple gifts are normally the only Christmas present the children receive. This year, members of the congregation of Grace Church were asked to participate …if they would like to help with the project. The final count of boxes sent to the collection depot was 25. In order to cover the cost of shipping and distributing the boxes around the world, $5.00 is needed for each box. Since this can prove to be amajor expense, donation(s) to assist with the shipping costs were generously given by members of the local community, such as the Masons, and the students of the High School in Lachute [who] prepared 20 boxes and the necessary $5.00 per box for shipping.


Members of The Church of The Redeemer in Weir have asked to be given the information for next year so they too may participate. We've gone from 5 to 25 boxes in two years, adding to the 2.5 million boxes expected to be prepared and distributed world wide. Most of the boxes collected from the Montreal area were destined to be shipped to Central America.

With the subsequent tragedy of Hurricane Mitch we can understand how these boxes will be valued more than ever.
Once again you have shown we don't have to be big or numerous to share the love of Our Lord Jesus Christ. Thank you.

Editor's note: This article is excerpted and edited from the original [MS]







This web page is maintained by Guy Grolimond guygrolimond@netscape.net